Tamil Movie Kutrame Thandanai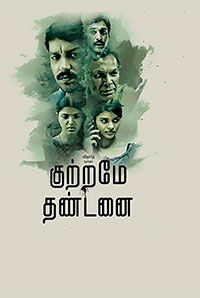 Coimbatore Movies
Tamil Movie Kutrame Thandanai
Kutrame Thandanai is the story of a mild-mannered collections agent in desperate need of money. He debates whether needs define morality and whether it is fine to co-opt with corruption by staying silent when he discovers the dead body of his young, female neighbour.
Director: M.Manikandan
Writer: M.Manikandan
Musician: Ilaiyaraaja
CAST : Vidharth, Aishwaraya Rajesh, Nassar
Coimbatore Tamil movie "Kutrame Thandanai" show timings
Cinepolis (Fun Cinemas): Coimbatore
04:15 PM

Kumaran Theatre - Coimbatore
10:45am 2:15 6:30 10:15pm

SPI Cinemas Coimbatore
4:45 10:00pm

Kovai Shanti Complex: Coimbatore
10:45 AM 02:15 PM 06:30 PM 10:15 PM
More Coimbatore Movies
Kaashmora (Tamil)
Coimbatore Movies
Tamil Movie Kaashmora
Tamil Movie Kaashmora, a present era black magic specialist; Rajnayak, an ancient era warlord and Ratnamahadevi is his queen. How are the three connected? What are the issues that arise? forms the story of this historic-horror-comedy movie.
Director: Gokul
Writer: Gokul
Musician: Shanthosh Narayanan
CAST : Karthik, Nayanthara, Sri Divya,Vivek
Coimbatore Tamil movie "Kaashmora" show timings
Kanakadhara Theatre - VR Complex
Movie Show Timings: 9:30am 12:45 4:00 7:15 10:30pm

SPI Cinemas Coimbatore -Brookefields Mall
Movie Show Timings: 12:20 12:30 12:40 4:00 7:10 7:15 10:45pm

Kumaran Theatre - Coimbatore Ambal Complex
Movie Show Timings: 10:50am 2:20 6:35 10:20pm

Baba Cinemas (Archana and Darsana): Coimbatore
10:45 AM 02:30 PM 06:30 PM 10:15 PM

Cinepolis (Fun Cinemas): Coimbatore
11:30 AM 03:10 PM 06:40 PM 10:10 PM

Karpagam Complex (Ganga & Yamuna): Coimbatore
10:30 AM 02:10 PM 06:10 PM 10:00 PM

KG Cinemas: Coimbatore
10:00 AM 12:45 PM 04:00 PM 07:00 PM 10:20 PM

Kovai Shanti Complex: Coimbatore
10:30 AM 02:15 PM 06:00 PM 09:45 PM

More Coimbatore Movies