Share
Single Shankarum Smart Phone Simranum Movie Review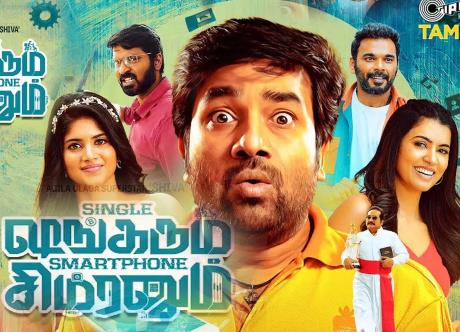 Tamil Movie Single Shankarum Smart Phone Simranum
Coimbatore Movie Show timeings
Lark Studios Presents Latest Tamil Movie "Single Shankarum Smartphone Simranum" Trailer, Starring Agila Ulaga Superstar 'Shiva', Anju Kurian, Megha Akash & Mano, Music By Leon James, Produced By K. Kumar, Written & Directed By Vignesh Sha P. N.
Single Shankarum Smart Phone Simranum Movie Review
Madhesh (Sha Ra), an IIT graduate who invents a unique mobile phone with an inbuilt AI bot and names it Simran (Megha Akash). He starts interacting with it and realises that the AI bot is capable of doing many things in the world. All of a sudden, two petty thieves snatch the phone from him and sell it to a second hand mobile showroom nearby. Shankar (Shiva), an engineering graduate who works as a food delivery guy, happens to buy the phone.

Shankar's life changes overnight because of Simran and her intelligence. The AI bot helps him win cash through online games and makes him popular.

At one point, he even delivers food in a luxury car and gives lectures to the customer, saying that anybody can come up in their life anytime. He even manages to win the heart of Tulsi, his longtime crush, makeup artist, and Instagram influencer. We couldn't help but laugh out loud while watching these sequences.

Trouble begins when Simran (the AI bot) falls head over heels in love with Shankar. Can Shankar lead a happy life with the AI bot, or does he have to face the consequences of rejecting her love because she's only a machine?

The concept of AI falling in love with humans is not something new, but the situations that it creates in the protagonist's life keep us on splits most of the time. While the comedy takes a back seat in the post-interval sequences, funny characters and witty one-liners engage the viewers in parts.

The film would have been much more interesting and better if the director had brought in some real conflicts in the second half, while also incorporating some fun moments. The climax had all the potential to be chaotic and funny at the same time like we have witnessed in successful entertainers before, however, it failed to create an impact. The concept of using augmented reality by fusing digital and real-world elements is intriguing, but the animation was ineffective.
Single Shankarum Smart Phone Simranum Movie Show timings
SPI The cinema Brookefields Coimbatore
900 m·4F, Brookefields Mall - Krishnaswamy Road, Coimbatore, TN 641001
3:50PM 7:05PM 10:25PM

Karpagam Theatres Private Limited
950 m·268, Karpugam Complex - 1st Floor - 100 Feet Road - Gandhi Puram, Coimbatore, TN 641012
2:45PM 10:20PM

KG Cinemas
2.6 km·No. 3 Bungalow Road - Race Course, Coimbatore, TN 641018
7:10PM 10:25PM

Cinepolis (Fun Cinemas)
6.1 km·Fun Republic Mall - Avinashi Road, Coimbatore, TN 641014
10:15PM

Sri Sakthi Cinemas Multiplex
44.2 km·270, Union Mill Road, Tirupur, TN 641601
10:40PM

Cine park theatre
46.9 km·Valliammai Nagar, Rakkiapalayam Road - Cheran Nagar, Tiruppur, TN 641606
6:15PM 10:00PM