Share
Latest News on Coimbatore Metro 2023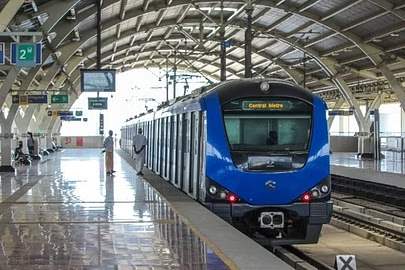 Coimbatore Metro
Tamil Nadu Budget 2023-24: Coimbatore Metro to Get Funds of Rs 9000 Crores
The Coimbatore Metro is a proposed rapid transit system for Coimbatore, Tamil Nadu. In December 2017.
The Coimbatore Metro route would allow you to explore all these stunning places and more at a reasonable fare. Moreover, you'd be able to cover all the popular tourist destinations in a minimal time.
March 2023: The state government of Tamil Nadu, in its budget, allocated funds to Coimbatore metro on Monday. Finance Minister Palanivel Thiaga Rajan stated that the government plans to allocate approximately Rs 9000 Crores to the Coimbatore metro rail project.
The announcement was made by finance minister Palanivel Thiaga rajan during his budget speech inn the assembly.
Coimbatore Metro will be divided into three phases according to the full project report. Two corridors have been planned in the first phase, with the first connecting Vellalore Bus Terminal to PSG Foundry through Ukkadam Bus Stand and offering airport line connectivity from Park Plaza (totally covering 31.73 km).

The Collectorate Metro will be connected to Valliyum Palayam Pirivu via the second corridor ( 14.13 km).
The Collectorate Metro will be the connecting station for these lines, and it will most likely be built in the Collectorate's eastern end. A brief description of each phase is discussed below.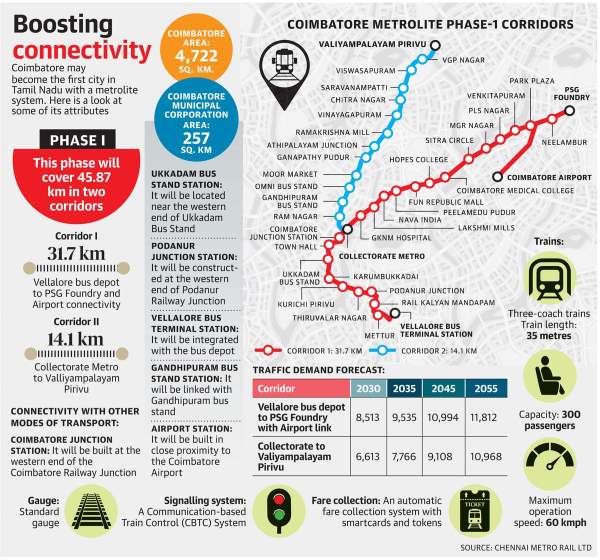 Coimbatore Metro Phase I
Corridor 1: PSG Foundry-Vellalore Bus Terminal There will be 26 stations in the first corridor of Coimbatore metro route, which will stretch from Vellalore Bus Terminal to PSG Foundry and will have airport connectivity:

Vellalore Bus Terminal
Mettur
Rail Kalyana Mandapam
Podanur Junction
Thiruvalluvar Nagar
Kurichi Pirivu
Karumbukkadai
Ukkadam Bus Stand
Town Hall
Coimbatore Junction Station
Collectorate Metro
GKNM Hospital
Lakshmi Mills
Nava India
Peelamedu Pudur
Fun Republic Mall
Hopes College
Coimbatore Medical College
SITRA Circle
MGR Nagar
PLS Nagar
Venkitapuram
Park Plaza
Neelambur
PSG Foundry and Coimbatore Airport

Coimbatore Metro Phase II
Corridor II : Vaiyampalayam Pirivu-Collectorate Metro
There will be 13 stations in the second corridor of Coimbatore metro route, which will stretch from Collectorate Metro to Valiyampalayam Pirivu and will have airport connectivity:

Collectorate Metro
Ram Nagar
Gandhipuram Bus Stand
OmniBus Stand
Moor Market
Ganapathy Pudur
Athipalayam Junction
Ramakrishna Mill
Vinayagapuram, Chitra Nagar
Saravanampatti
Viswasapuram
VGP Nagar
Valiyampalayam Pirivu.