Share
Coimbatore Property Tax Online Payment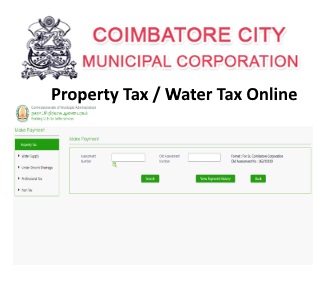 Coimbatore Property Tax Online, and Tax Pay Online
Property tax in Coimbatore is calculated based on the various dimensions of the property. The tax rate varies based on the location, age of the property, and the type of property. In Coimbatore, property tax can be paid online as well.
Property (both commercial and residential) owners under the Coimbatore City Municipal Corporation (CCMC) have to pay property tax. The tax amount has to be paid every year. The tax is collected from the property holders by the CCMC based on the features of the property such as area, locality, occupant type, construction type, usage type, occupant type and prices pertaining in that specific zone.
Citizens can pay the property tax in Coimbatore offline by visiting the office of the Coimbatore City Municipal Corporation.
They can also make payments at authorised banks and e-Seva centres. Property owners will receive the property tax invoice for the payment term.
Visitors can pay online also
Help:-
How to Pay Property Tax Online?