Share
Google Pixel, Pixel XL Smartphone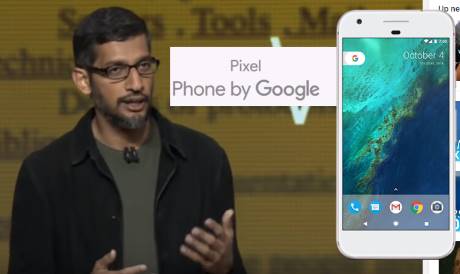 Google Pixel - October 4th Full Announcement
Pixel smartphones
Google (GOOG) announced a new Pixel line of phones -- the 5-inch Pixel ($649) and 5.5-inch Pixel XL ($769). The prices are the same as the iPhone 7 and the iPhone 7 Plus.
Google Pixel XL - Full phone specifications
The devices come with a built-in AI assistant, Google Assistant. The company demonstrated how the AI software can make a reservation for you right from the device and complete other tasks.
Pixel has a pretty sweet perk for photo fans, too: Users will get free unlimited storage of photos and videos -- something Apple would be wise to consider in the future. The devices, which are available for pre-sale starting on Tuesday, come in three colors: quite black, very silver and really blue.
Daydream View
Google announced Daydream View, the first VR headset designed for Daydream-ready phones. Working with clothing designers, Google says it's created something "soft, cosy and comfortable to wear." The headset and any Daydream-compatible phone pair wirelessly, and there's an auto-alignment system to make sure everything fits just right. The Daydream controller is "so accurate you can write your name with it," and fits inside the headset for easy storage. Slate, Snow and Crimson are your color options.
Chromecast Ultra
Google's rumored 4K Chromecast is official. It grows from the circular design of the last generation, adding more speed, an integrated ethernet port and enhanced video capabilities. That means it can handle 4K video, HDR video and Dolby Vision. As part of the deal, Google Play Movies will start rolling out 4K content in November, and you can of course get that high-res content from the likes of YouTube and Netflix as well.
Google Home
Google's smart home assistant, announced back at I/O is official. Inspired by items you commonly find in the home, Google home's design feature a capacitive touch surface on top, based around a large speaker.
Google Assistant is built in, allowing Home to answer questions in natural language using Google's Knowledge Graph — including translations, querying Wikipedia and summarizing information you'd get from a web search. All the same intelligence you'd get from Google Assistant in Allo or on Pixel phones is available through voice in Google Home.
Google Wifi
Google's expanding — and kind of supplanting — its OnHub program with Google Wifi, a new router system designed to let you to cover all the various corners of your home with full Wi-Fi connectivity. The base stations are small, and can be simply networked together to expand your coverage to hard-to-reach or far-away places without additional configuration. "Simply add Wi-Fi points to expand coverage," and "without compromising aesthetics." There's also a companion app to allow you to control the Wi-Fi access of your kids.
Google's Pixel phone event in 10 minutes