Share
Beast - Tamil Movie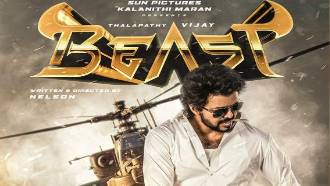 Beast Movie: Showtimes, Review, Songs, Trailer, Posters
Beast is an Indian Tamil-language action thriller film written and directed by Nelson and produced by Sun Pictures. The film stars Vijay and Pooja Hegde, while Selvaraghavan, Yogi Babu and Redin Kingsley play supporting roles.
---
Director: Nelson Dilipkumar
Budget: 150 crores INR
Music director: Anirudh Ravichander
Producer: Kalanithi Maran
Production company: Sun Pictures

---
Cast
Vijay (Veera Raghavan)
Pooja Hegde
Shine Tom Chacko
Selvaraghavan (Madhav Singh)
Madhav Singh
Story
A busy mall in Chennai city gets hijacked by an international terrorist organization in demand of release the head of the terrorist organization. Indian government sets up a negotiation with the team head Madhav Singh...
Movie Showtimings
Baba Cinemas
1.2 km·16/26, Baba Complex - Mettupalayam Road - Rathina Sabapathi Puram East, Coimbatore, TN 641002 9:00AM 12:00PM 3:30PM 7:00PM 10:30PM

KG Cinemas
2.6 km·No. 3 Bungalow Road - Race Course, Coimbatore, TN 641018
9:00AM 11:35AM 11:50AM 12:05PM 3:00PM 3:15PM 3:30PM 6:45PM 7:00PM 7:15PM 10:35PM 10:50PM 11:00PM

Gokulam Cinemas
19.5 km·29A, Siruvani Main Road - Alandurai, Coimbatore, TN 641101
10:30AM 2:30PM 6:30PM 9:50PM

APA Cinemas
23.2 km·Pollachi Main Road, Kinathukadavu, TN 642109
10:30AM 1:45PM 5:00PM 8:15PM 11:30PM

Meenambiga Theatre
26.2 km·Somanur Road, Coimbatore, TN 641668
7:15AM 10:15AM 1:30PM 4:45PM 8:00PM 11:00PM

Cowmalaya Cinemas
33.9 km·Off Palakkad, Pollachi Road, Kozhinjampara, KL 678555
7:00AM 11:00AM 2:15PM 5:45PM 9:00PM 11:59PM

Sangeetha Theatre
35.3 km·Somanur Mangalam Road, Mangalam, TN 641663
10:30AM 2:20PM 6:20PM 9:30PM

Dorais movie land
39.6 km·82, Coimbatore Road, Pollachi, TN 642001
9:01AM 12:25PM 3:51PM 7:15PM 10:46PM 3:56AM

MPS Theatre
41.5 km·Parapalayam - Mangalam Road, Tirupur, TN 641687
9:30AM 1:00PM 4:00PM 7:00PM 10:00PM

Manis Theatre
41.7 km·Tirupur, TN 641601
7:00AM 10:30AM 2:30PM 6:30PM 10:15PM

Thangam Cinemas 4K 3D
41.8 km·Kottur Road, Pollachi, TN 642006
9:00AM 12:25PM 3:50PM 7:15PM 10:45PM

Sree Devi Durga Theatre
42.5 km·Sultanpet - Near HP Petrol Pump, Gandhi Bazaar Road, Palakkad, KL 678001
10:00AM 1:00PM 4:00PM 7:00PM 10:00PM

Sathya Movie House
42.6 km·Parakkunnam, Railway Station Road, Palakkad, KL 678001
10:45AM 2:00PM 5:45PM 9:00PM

Charan Cinemas
42.6 km·Charan Theatre,Fathima NagarMurungampalayam(Near Kumar Nagar),Tirupur, Tirupur, TN 641687
7:00AM 10:30AM 2:30PM 6:30PM 10:15PM